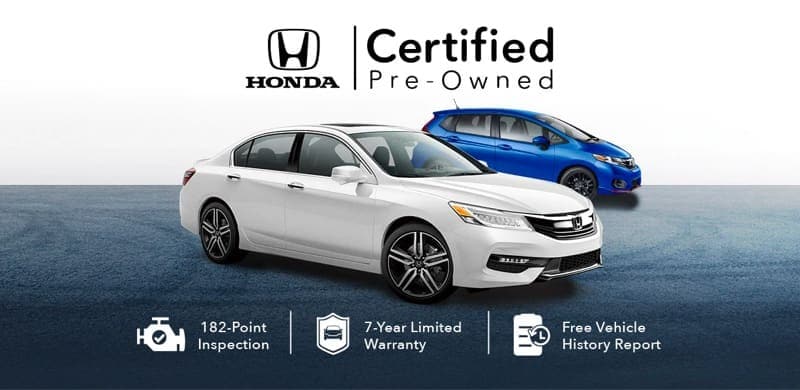 Certified Pre-Owned
Nothing compares to the quality of a Honda. No other program comes close.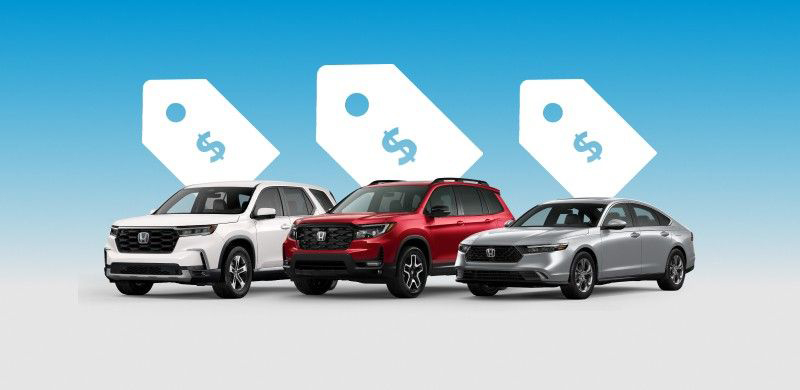 Current Offers
See this month's featured current offers going on now on new Honda vehicles.
Our Reviews
The customer service was excellent! Jimy went above and beyond to make sure everything went right with the purchase of my HRV and communicated every step of the way with professionalism, friendliness, and kindness. He was patient in explaining things. It's my first time being a customer here, and I will recommend it to everyone! Thank you Jimmy.
Amazing job! My salesman was name is Manmet !!! If I could recommend anybody I would recommend him very patient help me out. He stayed past the time for him to leave just for me to get a good deal. I really appreciate it and everybody at DCH Honda. This is my second lease with them and I will be coming back.
Great customer service and accommodating. Leased a CRV and everyone was a pleasure to work with
Great customer services. He was super knowledgeable and friendly and helped me move through the process fast
Everyone was really nice and helpful!
've been to quite a few Honda dealers looking to purchase a CRV and sad to say those dealerships didn't even acknowledge my presence. I wasn't planning on visiting DCH HON but I ended up going and to my surprise car salesman Nelson greeted me while I was walking the lot and the rest is history….NO PUSH NO PRESSURE! I walked out with the car I wanted. Nelson was absolutely a delight to work with! And the sales Manager Mike just the same. I would totally recommend this dealership for your car needs. And Nelson if you're reading this I'm sending my friend to you, she wants the same car. I hope not the same color lol
DCH Nanuet provides top notch service at all levels. Anticipating your needs, efficient qualification of what you are eligible for and a large and varied selection of cars. No endless hours at the dealer. You walk in a customer you walk out a friend with a new ride !! 10/10 it's my second lease and this review is 4 years in the making. This team won't disappoint. Kudos to their GM who has successfully translated the Honda Corporate Culture to the team. Simply excellent.
Nelson Jimenez was pleasant to work with. Made care buying less stressful. He is professional, knowledgeable and we wish him much success in his career at Honda of Nanuet.
These guys are fair. I shopped around and got the best price here. I am a return customer and will go back to DCH Honda of Nanuet. Thanks to Eric and Dhimitri.
Easiest and fastest car transaction ever. Hi my, Greg, and Mike were awesome
priced 3 honda dealers they were best by more than $1500. also fair trade in value and dynamite sales help
I purchased a certified preowned HRV from DCH Honda. DCH makes buying a car a pleasant experience. The staff members were kind and patient. No pushy salespeople at this dealership. I highly recommend the salesperson, Jeremy. He was thorough, professional and made sure that I was leaving the dealership as a happy customer.
Very easy and great experience. Eric Martinez was great.
I bought my car recently from DCH Honda of Nanuet. Mehmet in sales and Michael in financing were both very helpful in securing and getting a good deal for the car. They made sure to answer all my questions and I am very satisfied with their service.
I purchased a Honda CRV 2024 . Sales person Jean Joseph is very good. He is very helpful. Go to DCH Honda Nanuet ask for Jean Joseph and you're going home with your car . Good customer service.
Nanuet Honda is the best dealer I have never seen. The sales persons are extraordinary. I buy a CRV EX 2024 . Good deal.
Friendly, not pushy, knowledgeable, and didn't try to upsell me.
This is our 4th car from DCH Honda. Our salesman Jeremy was helpful, respectful, knowledgable, and pleasant. We never felt pressured and leasing and purchasing a car was a smooth and pleasant experience!
Excellent sales help, all done in 3 hours, made the purchase easy and stress free. Would gladly buy fron them again..
I want to thanks Carlos!! for your great costumer service that he gave me, he was very kind and helpful, he always gave me a lot of help and answered all my questions, thank you for your kindness 👍🏻
The BEST car buying experience I've ever had. Over the years, I had become jaded and dreaded the whole price haggling and head games salesman have played. To be honest, as soon as Jean Joesph met me at the door, I had a feeling I may not get what I wanted, but I would be treated with respect. So he exceeded my expectations. Got what I wanted and beyond. The whole team at DCH went above and beyond. Thank you, Jean, for a Plus ONE Experience!!
Great experience our salesman EricMartinez was great! Christine in internet sales great as well! Thank you
I got my first car from DCH Honda just recently. My Salesperson was Joann and she honestly is the best one in there. Because of her recommendation I ended up getting a car I least expected and it fit me so well. Thanks Joann and DCH Honda!!
Buying from DCH Honda of Nanuet, was a very pleasant and hassle-free experience, all thanks to Jeremy, who is an exceptional sales consultant! Jeremy made the car buying process for my new 2023 Honda Accord Hybrid a breeze! Jeremy was very professional, understanding, honest and trustworthy! I've had my share of bad experiences in the past with other dealerships, however, Jeremy and the DCH staff, (Christine and Kamu) made me regain my trust in dealerships again! Jeremy and Christine were very accommodating and attentive to my car shopping needs. I highly recommend Jeremy and DCH Honda of Nanuet to anyone who is in the market for a great car. I'm confident you won't be disappointed!
Had a really great experience from start to finish with this dealer. Eric was a pleasure to work with. He made our purchase easy and swift. Definitely recommend using them if you need a car.

Welcome to Your Honda Dealer in Nanuet!
Welcome to DCH Honda of Nanuet, a new and used Honda car dealer in Nanuet, NY. We're here to help Suffern and New City find the Honda vehicles they need at prices they'll love! As a car dealer in Nanuet, not only do we assist with your Honda research, finance, and service needs, but we're proud to be a part of the community as a whole. Take a look at what we have to offer, and you'll see why so many people choose us to be their Nanuet new car dealer.
More Than a Car Dealer in Nanuet
The DCH Auto Group founded the DCH Teen Safe Driving Foundation, now known as the National Foundation for Teen Safe Driving. We work to educate teens about the dangers of distracted and inexperienced driving. When you choose us as your Nanuet used car dealer, or for a new Honda Accord Hybrid, you help support causes such as this one, so don't hesitate to get your search started today!
What You Get with Our Nanuet New Car Dealer
Allow our Honda professionals to listen to your needs and tailor a customized shopping plan that satisfies your wants and budget when it's time for a new Honda. As your Honda dealer in Nanuet, we can provide you with Honda research information so you can learn more about all the available new Civic models, or can introduce you to our finance professionals to discuss your good or bad credit financing needs. If you're looking to get a tire service for your Honda CR-V and would like the peace of mind that comes with knowing factory-trained technicians are using genuine Honda parts while caring for your car, visit our service department now! Our hassle-free Honda dealership near Mahwah, NJ is eager to welcome you over so drop by for a new car today!
We Want to be your Nanuet Used Car Dealer and More!
Now that you know a bit about what we have to offer as your Honda dealer in Nanuet, we hope you'll pay us a visit soon. We look forward to helping you find the right vehicle at the right price. If you have questions or would like to know more about what we have to offer as your Nanuet new car dealer, contact us. We're excited to do business with you!
Get Directions To DCH Honda of Nanuet